An Ashtanga Yoga Teacher Training with Manju P. Jois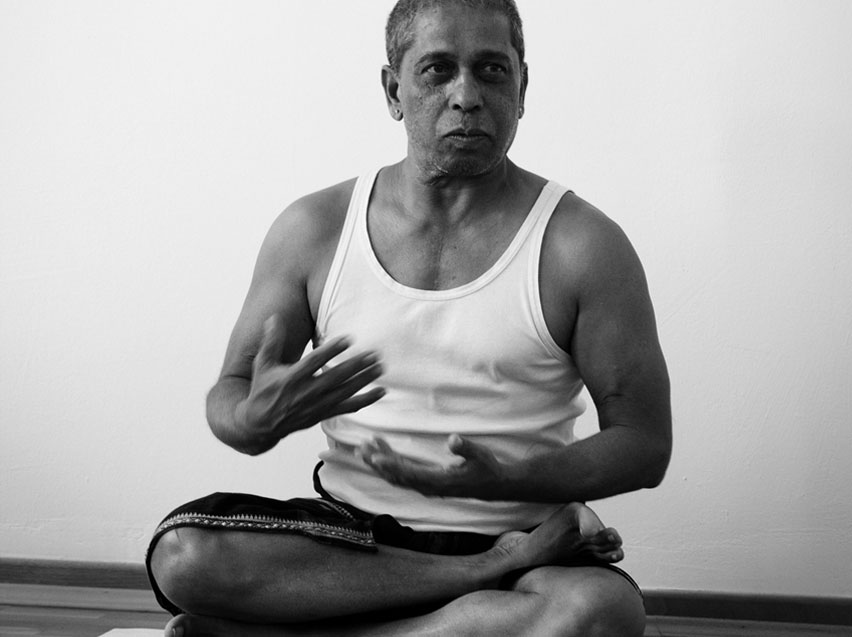 for the Intermediate Series & Yoga Therapy & Ayurvedic Cooking
Manju P. Jois will introduce and teach the powerful healing elements and techniques that make up the Ashtanga System. This training will focus on the Intermediate Series entitled Nadi Shodhana (nerve cleansing), Yoga Therapy, the Nadi Shodhana Pranayamas (breathing exercises) and the Vedic Peace Chants (Shanti Mantras). Furthermore  Manju will offer an Ayurveda cooking course.
In the adjustment training we will explore in depth and detail every posture of the Intermediate Series.
In the Yoga Therapy sessions we will learn specific asanas, which can cure various problems. Manju will teach the effects of specific asanas which can be used therapeutically. Also we will have the opportunity to work with some of the advanced postures for therapeutic reasons.
Additionally in this workshop Manju will introduce Ayurvedic Cooking.  Two afternoons we will meet in a nice location with a big kitchen, where Manju will cook with us, explain all the ingredients and offer a step by step cooking course for a delicious ayurvedic meal, that we will enjoying eating together. The basics of a healthy aryuvedic diet will be discussed in terms of what helps healing and strengthening the body.
This training is designed for Ashtanga Yoga Teachers and longtime practitioners. To attend the training a regular practice of the Intermediate Series is required and the Intermediate Series has to be fully integrated in the daily practice. Furthermore it is obligatory to have completed a "Primary Series" Teacher Training with Manju P. Jois. Students who have completed a Teacher Training for the "Primary Series" with Nancy Gilgoff or Andrea Lutz will also be accepted.
Manju is known for his healing hands and his precise adjustments. He has 50 years teaching experience and is a master in Yoga Therapy. He also is a fantastic cook and we are happy to present his cooking course for the first time in this training. The training is focused on learning safe and helpful adjustments for each asana of the Intermediate Series and gives an introduction to Yoga Therapy. Furthermore, Manju will teach Nadi Shodana Pranayama as well as the Vedic Peace Chants which helps to integrate the practice in mind and body.
Each afternoon there will be time for lectures, discussions and Q&A. Everybody with serious interest in traditional Ashtanga Yoga will benefit from the deep insights Manju can offer out of his life long study and teaching this practice.
Teachers Training "Intermediate Series"
June 19th – 23rd 2017
Monday till Friday: 9am – 2pm
Tuesday & Thursday 3 – 6pm (Ayurvedic cooking)
Manju P. Jois started yoga at age seven with his father Sri K. Patthabi Jois in Mysore and began teaching at age 15. He has taught continuously throughout the world for the last 45 years. Manju Jois' dedicated life-long mission is to provide training for students and teachers in the traditions of Ashtanga Yoga. He trains students in the ancient style of yoga, which is a combination of the Asanas, Pranayamas and meditation chants. Manju's teaching style is intensive, inspiring and humorous. He is honored to pass along all of the traditional components of yoga to his students, as he encourages them: "Unite with yourself".
Costs (prices including VAT 19 %)
Teachers Training "Intermediate Series & Yoga Therapie & Ayurvedic cooking": 710€
Teachers Training "Intermediate Series & Yoga Therapie & Ayurvedic cooking" and Weekend Workshop: 810€
Places are limited and allocated when payment has arrived.
To reserve your place a non refundable deposit of 200€ has to be made, the remaining costs has to be paid latest 6 weeks before the training starts.
Participation is at your own risk.
If you need accommodation please send us an e-mail and we will send you links for affordable private rooms and apartments in the area.